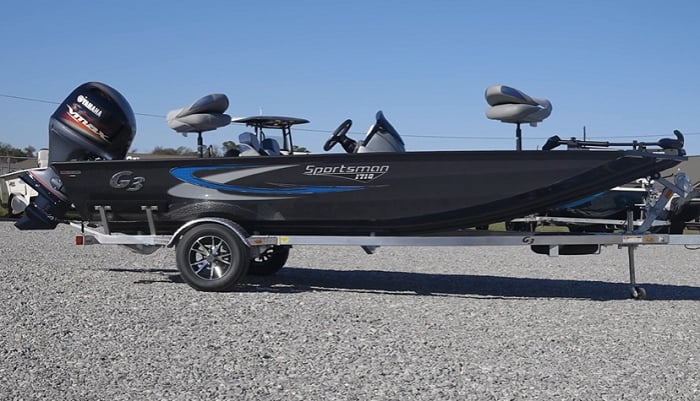 Who makes G3 boats for big game fishing and family fun
Wondering "who makes G3 boats" for fishing, lake hunting and family fun?
G3 boats appeared in 1960 by its first manufacturer JB Appleby, founder of the company Appleby Boats. Then, Brent Appleby, the grandson of JB Appleby, launched the Generation 3 brand in 1992.
Five years later, the Yamaha Boat Company bought Appleby Boats and gave it a new name "G3".
Learn more details about G3 boats around the world by reading on.
The origin, ownership and characteristics of G3 boats
1. The development of G3 boats
G3 boats were first built in 1960 by JB Appleby, founder of Appleby Boats. In 1992, Brent Appleby, the grandson of JB Appleby, launched the Generation 3 boat brand in Lebanon, Missouri, USA.
Here are some quick facts about the rich roots of G3 boat development:
The Roots of G3 Boats: John Bell "JB" Appleby, began creating the first aluminum boats in Lebanon, Missouri.
The Generation 3 brand was then launched by his grandson Brent in 1992 in the city of Lebanon.
Lebanon, Missouri is a city known for its experienced boat building workforce, and among them is Appleby Boats.
Brent sold the business to the Yamaha Boat Company in 1997, which was later renamed G3. G3 Boats have built a range of aluminum boats for fishing and sports.
The Yamaha Boat Company continues to manufacture and distribute high-quality Yamaha G3 boats through certified dealers in the United States and around the world.
2. A Snapshot of John Bell Appleby: First G3 Boat Builder
Mr. "JB" Appleby had the idea of ​​making Jon boats out of aluminum during his travels. Specifically, he got his idea from a Big Piney Riverman named Dablemont when he visited Lebanon in 1959.
While selling the Rich Line boats, he spent a day on the banks of Big Piney, watching Mr. Dablemont building a boat.
JB Appleby asked to use the details of this boat on seemingly angled and curved rakes on all sides. JB got his request and designed aluminum river boats on the condition that the folks at Mr. Dablemont and Ozark afford them.
JB complied with the condition and built affordable aluminum boats in his small home in Lebanon in March 1959. He started Appleby Boat Company in 1960 and made his first shipment of 10ft long aluminum Jon boats to the company Sears and Roebuck in Kansas City.
Appleby Boats grew out of JB's strength in boat sales and manufacturing and became the largest aluminum boat manufacturer in the world in 1964. What JB founded in Lebanon made it a great shipbuilding town for G3 boats.
3. G3 boat owners and dealers
The Yamaha Boat Company continued to produce G3 boats through its first builder, JB Appleby founder of Appleby Boats. Every high-quality G3 fishing boat and pontoon product comes with excellent customer service and value for loyal owners and dealers.
G3 boat makers have established aluminum boat products at refreshingly priced dealerships and owners. They have gained increasing value over the years in the United States and abroad among G3 boat owners.
You can find a G3 boat dealer near you with this dealer locator for plans or solutions to any inconvenience. The locator will guide you not only near you, but also to other authorized dealers in certain locations around the world.
Now that you know who's behind G3 boats, learn about the models and every attribute and feature useful for your angling, sports and other marine uses.
4. G3 models and features
If you ask "are G3 boats welded or riveted?" then you need to know their characteristics. G3 boats and each G3 model face a variety of uses.
Highly hybrid, wide aluminum body and elongated design, suitable for multi-species angling, big game fishing, skiing or other sporting activities and large crowds
Competitively priced aluminum boats that are solidly built for tough conditions and family fun.
They're not a highly regarded brand like Lund, but have great resale value and angler-friendly features.
Features an all-aluminum, all-welded or all-riveted and V-modified hull with wide-beach livewells with plenty of rod lockers for flexible use and storage
Solid and beautiful surface or floor finish, and plenty of storage compartments for safekeeping
They have a unique reinforced body exclusive to GX2 with double veneer structures for a solid base and sturdy bottoms.
G3 boat variants include 16-21 foot models and other customizable models
built to withstand various marine uses. Choose your model from Angler V, Bay Series, Eagle bass, Gator Tough Jons, Sportsman and Sun Catcher pontoons.
G3 is known for its customer service and goodwill that ensures excellent benefits for its local customers.
G3 boats come with limited lifetime warranties transferable to second owners from their original purchase within 5 years.
Learn more about the value-added features of G4 boats and their benefit guarantee giving value to its loyal owners.
Frequently Asked Questions
1. Why choose G3 boats?
G3 boat manufacturers guarantee high quality and reliable performance for fishing and other needs, including consistent customer service.
Each model of G3 fishing boats and pontoons is manufactured by qualified boat builders and comes with an advantageous warranty. This means you are assured of a solidly built design that exceeds the strict maritime standards that boat owners deserve.
You might still be wondering why you should choose these G3 boat variants over the main brands on the market? Simply, most anglers loved how G3 boat makers designed them as better boating partners than other brands failed to provide.
2. Are G3 boats any good?
We recommend picking those features you find to know how good G3 boats are made. Read in this section the answers to your question "Are G3 boats any good?"
Generally, all G3 boats have good weldability compared to counterpart brands, although some of them are riveted for specific purposes. All G3 models have excellent maneuverability to deal with large catch species, high environmental pressures and corrosive elements.
The decades of experience of skilled boat builders have made G3 Boats a competitive aluminum boat brand with outstanding features. The durability, exceptional design, ample storage, spacious layouts and spacious hulls with livewell, among other attributes, are appreciated by boaters.
Better compare these G3 boat features produced by Yamaha Boat Company with other aluminum boat brands available in the market. This will confirm how well those who make the G3 boats ensure your main factor of nautical happiness.
Conclusion
Choosing your favorite G3 model can be daunting and leaves you wondering "who makes G3 boats" anyway? Understand what to look for among G3 variants to get something similar to your expectations.
Having this independent review helps you get to know these G3 boats better. Use the expert boating tips in this article knowing you'll need them after you buy one.
Continuing your learning on these adapted models guarantees your adaptability for fishing, sport or any season. Consider the development, features and frequently asked questions of G3 boats as a guide.