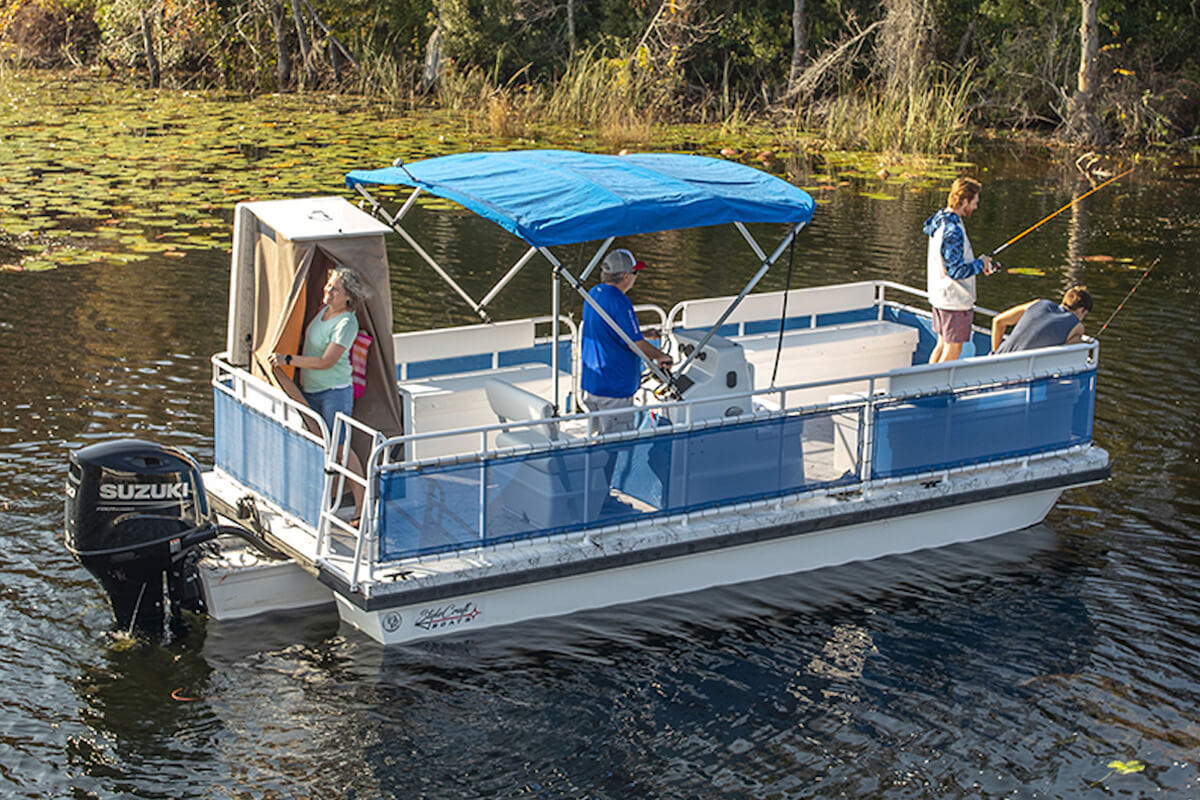 Top 5 adventures with a pontoon boat

August 19, 2022
By StyleCraft Boats
There are many exciting pontoon boat activities. Here are five favorites.
1. Feel the wind
Top of the list is simply cruising around the lake. StyleCraft Boats Outfitter ZX23 features exclusive fiberglass pontoon hulls. The design, based on racing pontoons, is flat on the bottom for an ultra smooth ride. These pontoons are also energy efficient, reducing horsepower requirements and improving gas savings. So, go on a cruise and enjoy long rides with the wind blowing.
2. Check out the tug of a fish
Everyone loves to fish and why be on the water if swinging a hook in the water is not the order of the day. A pontoon boat is designed to be comfortable and safe for angling. It's easy to watch the bobber and adjust the hook so youngsters can be close to the action with the boat ramp protecting them from the water. Casting with spinning and casting gear is no problem, drop that plastic worm or cast a bait in the best hole. It's easy to mount a trolling motor to work a shoreline.
3. Ride the Wakes and take a bath
Tubers love to hang on the rope attached to the back of a pontoon boat. Fairly fast action for each tuber is offered and the long fast turns give a good turn on the wakes. A pontoon boat also makes a great swimming platform. Don't park in too shallow water because diving and jumping off the bridge is so appealing.
4. Set up camp
Do not return to the marina at sunset. Drive to a sandy beach island and set up camp for the night. It's easy to pitch a tent with sleeping bags and air mattresses, set up a grill for a steak dinner hidden in the cooler, then build a cozy campfire to build smores or tell stories. Looking at the stars is much more fun on an island. Even the pontoon boat can be set up to camp directly on deck. Let the gentle lapping of the waves lull you to sleep.
5. Enjoy nature's artwork
Grab a comfortable chair and steer the pontoon boat west. The sunsets over the water are unbeatable. Be sure to have the camera ready as the orange hues of a glamorous sunset are ready to be recorded and shared for later enjoyment.
So, there are five of StyleCraft Boats experts' most favorite pontoon boat adventures. Get creative and enjoy the pontoon life to the fullest.