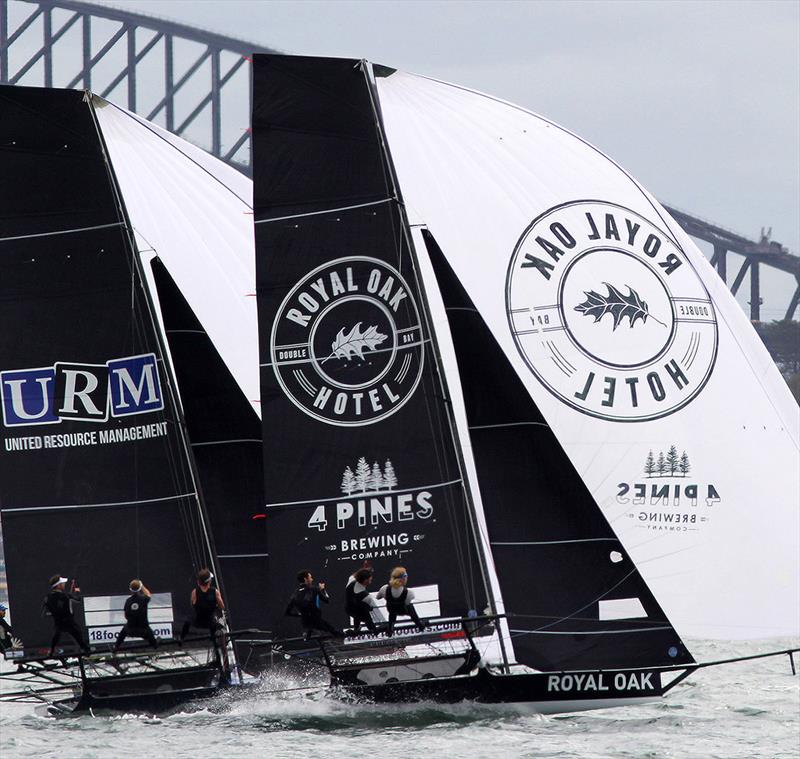 Sponsoring 'Formula 1 on the water'
18-foot skiffs: sponsorship of "Formula 1 on the water"
by Frank Quealey Jun 6, 2020 10:49 PM PDT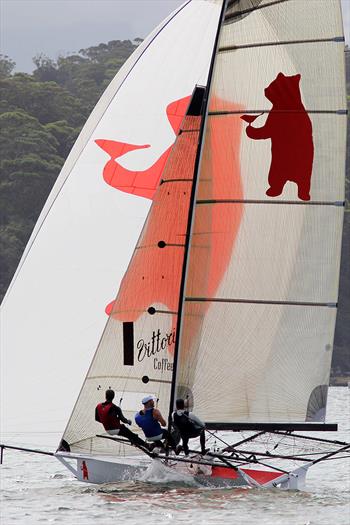 Bird and bear © Frank Quealey
Since the first recorded 18 foot races in Sydney Harbor in 1892, the boats were individually owned by wealthy or even struggling owners / skippers and had emotional names.
Naming Rights sponsorship in 18 Footers began in the 1960s, when companies realized the benefits of being associated with clean, healthy, outdoor, and iconic Australian sport, which was not only responsible for the ability to produce local media coverage, but was also a high-profile vehicle which also produced some of the world's greatest sailing talent.
World, Olympic, International, and America's Cup champions who were involved in the 18's include individuals such as Ben Lexcen, Iain Murray, Hugh Treharne, Adrienne Cahalan, Malcolm Page and Sam Newton who are a few among a galaxy of stars who have enjoyed the challenges and thrills of 18ft sailing
In 1964 Travelodge was the first company to take advantage of sponsorship in the 18's when President and CEO Alan Greenway, who was building an international chain of motels, saw the 18ft Skiffs as a great vehicle to promote his business.
Travelodge's first sponsorship was for the legendary Bob Holmes, who became five-time World Championship winner JJ Giltinan for Travelodge, between 1965 and 1973.
Travelodge sponsorship continued in Australia for John (Woody) Winning, New South Wales, and Neville Buckley, Queensland. The company also raced new boats for the New Zealand and US teams. Kiwi Terry McDell led Travelodge New Zealand to victory in the 1974 JJs over Waitemata Harbor, Auckland while Roger Welsh, Travelodge International, became the United States' first entry in the JJs.
Since the early 1960s, some of Australia's largest companies and many small local businesses have realized the potential of the 18-year-old and the various opportunities it offered to sponsors.
The high-performance, high-tech, 18-foot steering wheel skiffs have long been called "Formula One on Water," so the boat creates a wonderful platform for a Naming Rights sponsor.
Originally it was the visual impact of a "floating billboard" on Sydney Harbor, as well as the media coverage of local Sydney newspapers.
The sponsors became more aware of their "product" and realized that the crew was also marketable to a much larger audience than ordinary harbor spectators and readers of a local newspaper. They could see that the sailing demographics were great for their business strategies.
Hospitality provided another opportunity for the sponsors to promote their "Formula One" racing boat. A corporate day in Sydney Harbor to watch 'their boat' race in the world's largest fleet, then dine at a harbor club on the shores of Double Bay. What better way to promote their business to their local and international associates.
Some decided that they could also use their boat and crew to boost staff morale. As a long-term sponsor of boats, for over 30 years, Patrick Corrigan said: "It was a good way to give the staff of the company an interest outside of the day-to-day work.
In the past twelve months, five new sponsors, Birkenhead Point Marina, Shaw and Partners, URM, tech2 and Bird & Bear, are the latest to see the potential to be associated with the Flying 18s.
Earl Evans, co-CEO of Shaw and Partners, says, "The 18ft skiff sail is iconic to Sydney Harbor and Sydney as a whole. It's a dynamic sport and our association with the club is something that brings us great pride ".
"We believe companies have a social responsibility to give back to the communities in which they work and at Shaw and Partners we have chosen to align ourselves strongly with the watersports community, which is a vital part of the Australian coastal way of life. . . Shaw and Partners is happy to be associated with such a prestigious club and we hope to remain so for many years to come. "
Phil McGowen, Birkenhead Point Marina, CMM Marina Manager, said: "It was a great opportunity to team up with world class racing and the Birkenhead Point Marina brand."
"2019 was our first full season of partnering with the Australian 18ft League. The relationship between adrenaline-pumping 18ft single scull racing and athleticism and skills required by the talented young team is perfectly aligned with our unique and unparalleled facilities at Birkenhead Point Marina. "
The 18s also have sponsors like Rag & Famish Hotel and Smeg, who have been ongoing sponsors in the 18s for 24 years.
The incredible speed of the world's fastest monohull sailboat, as well as the spectacular (sometimes uncontrollable) action-packed races, have always captivated the general sports public as well as sailing enthusiasts across the world.
Regular global coverage became a reality when major international and local websites began to cover club races on a regular basis. The Australian 18-foot League has now taken advertising to another level by launching live video coverage of each race to a global audience. .
Sponsors of the past could not have imagined how their brand name and logo would have been projected by the latest technology and a competitive racing fleet on fire. Gone are the days when the names of sponsors were published in a local Sydney newspaper. In 2020, their names and logos are visible around the world.