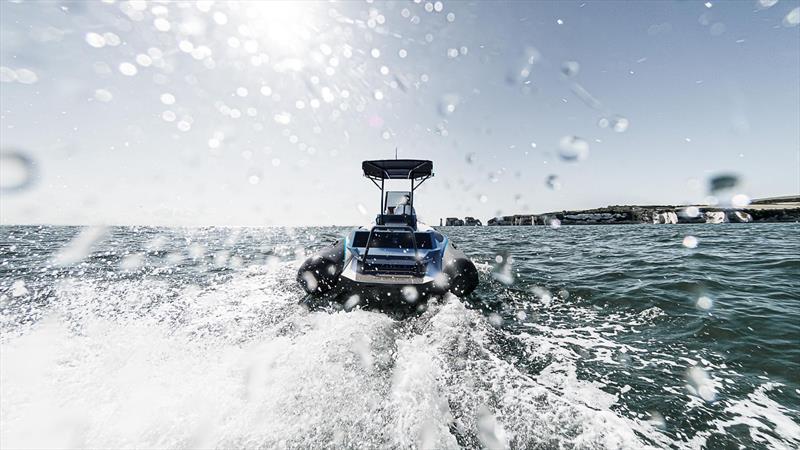 SailGP partners with RS Electric Boats to reduce support boat emissions for Season 3
SailGP partners with RS Electric Boats to reduce support boat emissions for Season 3
by RS Electric Boats May 6 08:54 PDT

RS electric boats – Pulse 63 © RS electric boats

As part of its commitment to accelerating the transition to clean energy and being the most sustainable sports and entertainment property, SailGP is chartering a fleet of Pulse 63 electric boats for Season 3.
RS Electric Boats will supply SailGP with four Pulse 63 electric RIBs. The vessels are 100% electric, so generate zero emissions and are oil-free, meaning there is no risk of water pollution. These boats are also nearly silent in operation and produce little wake.
Designed to be an electric boat from the start, the RIB features a unique aerodynamic hull shape that supports the weight of the batteries while allowing fast acceleration, functional speeds of up to 23 knots and great range.
Jon Partridge, CEO of RS Electric Boats Commercial, said: "It is an absolute privilege to team up with SailGP and be part of their transition to a zero emissions support fleet.
RS Electric Boats shares SailGP's ambitions for clean power for motorboats at sailing events. Founded by a sister company RS SailingRS Electric Boats was born out of the discovery that fossil fuel powered support boats are one of the biggest polluters in dinghy racing.
RS Electric Boats and SailGP will work together to inspire the adoption of electric propulsion in the sailing community and the wider marine industry. With a variety of Pulse 63 models already available for purchase, including coaches, commercial boats, superyachts and pleasure boats, RS Electric Boats can make going electric easy. Additionally, the Pulse 63 Electric RIB is economical to use, simple to maintain, and can be recharged in less than two hours via CCS, making adoption very accessible.
Julien Di Biase, Chief Operating Officer of SailGP, said: "All at SailGP are delighted to partner with RS Electric Boats on our journey towards a zero emissions support fleet. It has been a privilege to work with RS Sailing alongside of the SailGP Inspire program, and it is an excellent complement to the relationship".
Tom Verity, Head of On-Water Transition at SailGP, added "SailGP is committed to having its entire water footprint powered by clean energy propulsion by 2025. We recognize high performance of the Pulse 63 and are delighted to be working with RS Electric to honor this progressive commitment."