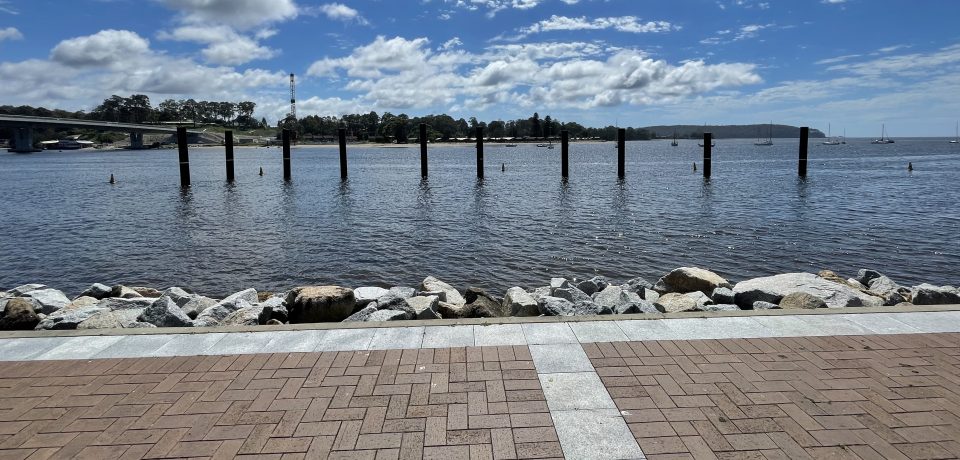 Residents of Batemans Bay react to new floating pontoon, giving boats a place to dock
A new floating L-shaped pontoon will soon be installed in the River Clyde as part of the Batemans Bay Bridge project, creating an area for boats to dock closer to the foreshore and town centre.
This is something boaters find necessary as they currently cannot dock close to town allowing quick access to shops and a break from the water.
Locals who often take boats in the River Clyde shared their views on social media.
Batemans Bay's Colleen Arena says it thinks it's a great idea.
"We go up and back to Nelligen often and a few times we wanted to stop in the bay and have a coffee but there was nowhere to dock."
Joshua Antill says towns like Batemans Bay need space for boats to dock.
"It's a necessity for any coastal town," he said.
Emanual Vavoulas, also from Batemans Bay, welcomed the news but said the Nelligen jetty needed to be extended.
"Good news, but they also need to expand the Nelligen one a bit as it has loads of parking, but can only moor one or two boats at a time."
Eurobodalla Shire's new mayor, Mathew Hatcher, also weighed in.
"Access to water is so important to our coastal region," he said.
---
READ ALSO: Financing of six nautical infrastructure projects in the Far South
---
Piling has begun, with 10 poles sticking out of the water in preparation for the pontoon installation.
Floating pontoons or floating docks are platforms that are supported by pontoons and are usually connected to shore using a walkway.
This type of jetty allows watercraft to be anchored to it, regardless of tide elevation, making it useful for mooring boats, which Transport for NSW says will make up a large part of the pontoon.
"This pontoon will give better access to the foreshore when open," said a spokesperson for NSW Transport.
"At the moment there is nowhere for boats to dock near the bridge and the city center, this will solve this problem."
The floating pontoon will connect to the existing fishing pier, providing boaters with a path to shore.
Currently, the only other floating pontoons in the Eurobodalla Shire are at Moruya and Narooma, but they are smaller and specifically designed for fishing.
Marine Rescue Batemans Bay was unaware of what was happening.
---
READ ALSO: $200,000 for Marine Rescue Batemans Bay to expand its facilities
---
Batemans Bay branch unit commander Michael Syrek said there was a lack of communication with what was happening in the Clyde River following the resignation of former MP Andrew Constance.
"We don't know enough but we would like to know more," Mr Syrek said.
Mr Syrek thinks the state government should also consider creating more boat ramps.
"At the moment, however, our main concern is that we need more boat ramps around the river – the one at Hanging Rock is far too crowded at peak times."
Despite this, Mr. Syrek thinks it's a good idea.
"I think the public will appreciate it though because there's nowhere to moor the boats approaching the city at the moment," he said.
According to Transport NSW, the floating pontoon is expected to be installed and open to the public early this year.