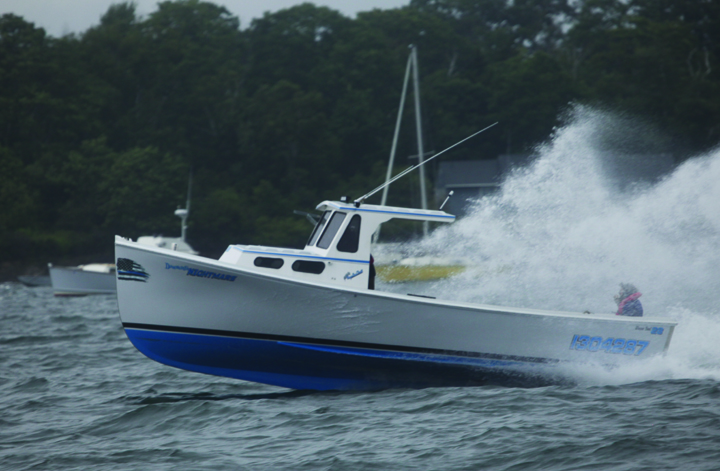 Libby boats designed to pack a lot of weight; Diesel record set at Maine Lobster Boat Races
September 16, 2021
the East Side Boat Shop in Machiasport, Maine launched the "Yes Dear", a 41′ x 15′ 8″ Libby with a 1,000 hp FPT, for a Rockland, Maine lobster boat. Frank Coffin, the owner of the shop, thinks the FPT will easily get the "Yes Dear" at 32 or 33 knots.
He describes the "Yes Dear" as an "ordinary ordinary lobster boat." Nothing out of the ordinary." She's built of composite with a split wheelhouse, V-berths forward, an open stern with a tailgate, but no lobster tanks or rope traps.
The East Side Boat Shop carries the Libby 34, 38, 41 and 47 molds. Coffin found the hulls designed by Ernest Libby to be very good at holding a lot of weight. The owner of a 47 Libby that Coffin built a few years ago reported that with 220 lobster traps on board, along with all his trawl lines and bay lines and fuel tanks full, he was able to sail at 15 to 16 knots. The boat's owner told Coffin, "I'd like to see one of those other hulls go that fast with that much weight."
Coffin attributes Libby's carrying capacity to the rocker of the hull. "The Libby has a different type of rocker in it. They don't jump; they just rise as they go. They carry their weight more amidships.
In the fourth week of June, another 41 Libby was almost done for a fisherman from Bailey Island, Maine. She is slightly more equipped than the "Yes Dear", with lobster tanks, a rope locker, aluminum framed windows, stainless steel steering and on-demand hydraulics. A 700 horsepower Volvo should cruise at 28-29 knots.
In the yard outside the store is a shell that will serve as a plug for a new 41 Libby mold. This one will have a 10 inch deeper keel to allow for a bigger wheel and 5 to 7 inch taller sides. "These guys have so much power now," Coffin says, "you can't put a wheel under them. The average is now 800 to 1000 hp. You don't need it.
Maine Lobster Race reached the halfway mark with races at Stonington on July 11, Friendship on July 18 and Harpswell on July 25; 142 boats showed up for the three races. More boats would no doubt have come had it not been for the heavy rain and choppy racing conditions at Friendship and Harpswell.