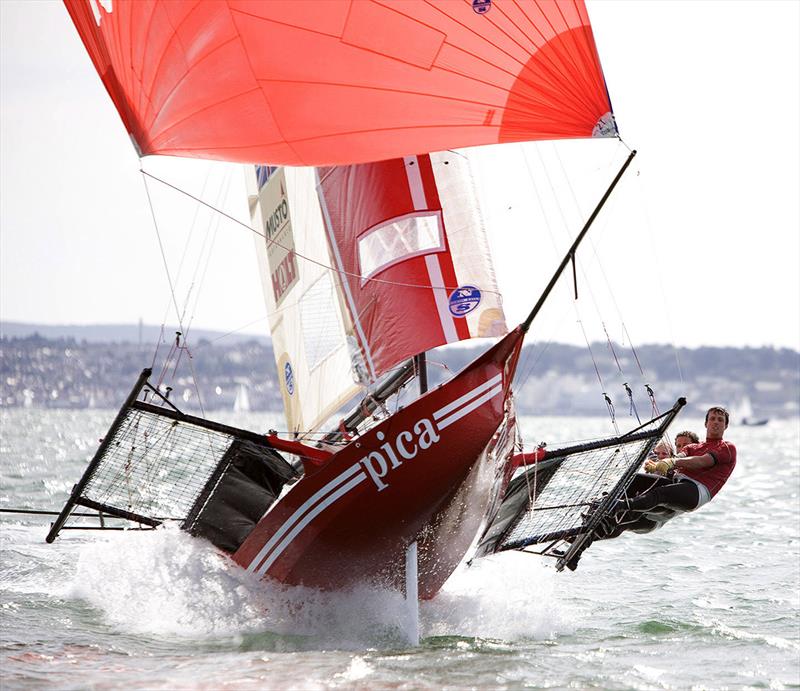 Jamie Mears, the 18 feet lose a champion
18-foot skiffs: Jamie Mears, the 18-footers lose a champion
by Frank Quealey Jun 5 12:28 AM PDT

Jamie Mears – Team PICA © Georgie Clarke

The 18ft class lost one of its champion sailors last month when British and European champion Jamie Mears lost his life following a tragic mountain bike accident in Italy.
Jamie (1976-2022) leaves behind his wife Gemma and his three sons Tommy, Ollie and Will.
After a successful spell in the B14s in the early 2000s, Jamie, along with his brother Stewart, joined the 18ft ranks in 2008 when he campaigned his single scull PICA across the UK and Europe.
His team have won the UK Grand Prix four times, 2009, 2010, 2011 and 2012, as well as several victories on the European Tour, but their best result was in 2011 at the Mark Foy Trophy Regatta.
Jamie, along with his brother Stewart (bow) and Tristan Hull (leaf), contested the Mark Foy International Trophy in Sonderborg, Denmark, and finished second to Australian champion JJ Giltinan, John Winning. The ranking gave Jamie and his PICA team the 2011 European Championship title.
Jamie also led the PICA team to Australia in 2013 and 2014 to contest the JJ Giltinan Championship in Sydney Harbour.
In 2013, with Stewart Mears and Tristan Hull, Jamie led PICA to 11th overall, in a strong fleet of 31 boats, and recorded a best 5th (in race 3) as well as two other finishes among the top ten in the six races. disputed during the regatta.
In 2014, this time with Stewart and Matt Searle, Jamie propelled PICA to 17th place out of a fleet of 34 boats from six countries. The team achieved top finishes of 7th and 8th in Races 2 and 3, but disappointing finishes in the next three races proved costly overall.
Club chairman John Winning expressed his sympathy on behalf of the Australian 18 Footers League: "It's a sad loss for his family and the 18s. Although I didn't know Jamie very well personally, I know that he and his brother were very good 18 footers when we met in major championships."
League manager Grant Rollerson, who competed against Jamie and his PICA team on several occasions, added: "Jamie will be remembered as one of the great British sailors of his day."
"He always campaigned hard and together with his brother Stu and normally someone else with quite a bit of talent, like Tristan Hutt, Sandy Ramus or Matt Gill, they posted impressive results for years. on the water and quickly to buy yourself a beer on land. Sailing on mate."
Sandy Ramus, "Obviously we're all totally knocked out for six right now but I'll say Jamie was a full loader whether it was in the 18 or in the mountains or even in the bar. I never saw the guy back down , he was always on the ground, he was a passionate and very talented sailor and I had the chance to race with and against him for almost 25 years.
"The 18 suited his personality well and he taught me while sailing it that you have to be completely stuck and never hesitate. Recently we had spent a lot of time together taking our sons to Optimist events and we all have the two loved seeing the next generation arrive. I will miss him desperately, and in fact everyone.
Ben Clothier recalls: "While I ran the UK 18 Grand Prix series, Jamie and Stewart were absolutely essential in keeping the British class running during this time."
"Jamie was hugely supportive of the class and the other contestants in his calm, understated style. He was keen to ensure the game was good for everyone involved. One of the few extremely capable people who didn't feel the need to do publicity or to force his opinion."
"He set the bar for us in terms of performance and driving on the UK and European circuits which made for some great years of competitive, fun and sociable racing. We all know the attitude and physique needed to push a skiff and Jamie had that in spades."
"Jamie was a leader by example and his skills, knowledge and generosity were hugely respected and appreciated by all who knew him on the tour."
Nic Tolhurst also recalls: "Jamie was well known in the single sculls community. First, from the early 2000s in B14, where he narrowly missed out on the world championship title, countdown to a opportunity."
"He was a huge supporter of the 18's and regularly toured venues across Europe and made the trip to Sydney twice. A fierce competitor on the track and a gregarious character in the boat park, he was widely respected and will be sorely missed. ."