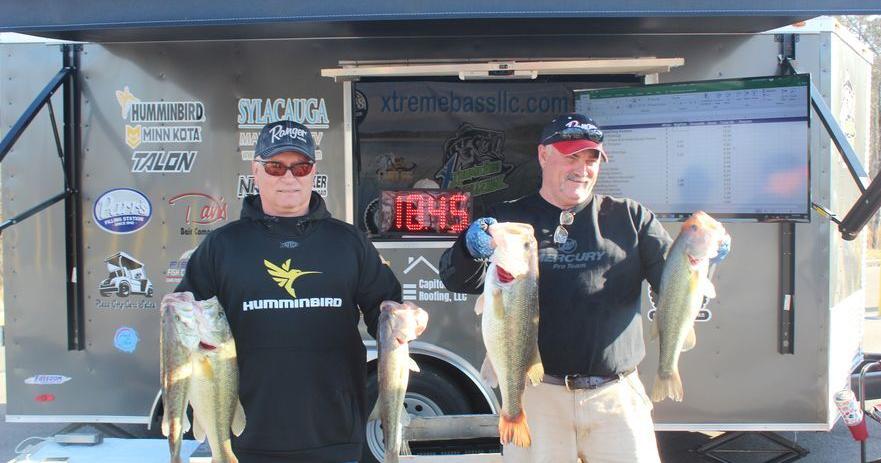 First West Alabama Team Trail attracts 43 boats despite muddy water and cold | Sports
Forty-three teams fished in the inaugural West Alabama Team Trail tournament Feb. 12 on Lake Miller's Ferry.
The West Alabama Team Trail was started by John McAlpine, who is well known and respected in the Alabama bass tournament world. McAlpine also organizes the Xtremebass tournament series. He explained that Alabama Team Trail has "a little less entry fee, and we'll be fishing here locally at Miller's Ferry and Lake Demopolis."
McAlpine said the West Alabama Team Trail Series will include six tournaments, three at Miller's Ferry and three on Lake Demopolis. The Miller's Ferry Tournament will kick off and weigh in at Bridgeport Landing. Demopolis Tournaments will launch and weigh in from Lock 5 Landing due to ongoing renovations at Demopolis Landing. The next tournament will take place in Demopolis.
The river conditions for this first tournament were less than favorable. "The river last week was really high," McAlpine said. "They pulled it out very quickly, and it scrambled it. It was also cold.
Some have zeroed in with no fish at all; others weighed very small catches. Those who weighed in said the fishing was difficult due to the muddy water temperature and cold water.
Despite the unfavorable conditions, some good sized fish were caught. In third place and winning $600 were Justin Coxwell and Thomas Moore of Waynesboro, Mississippi, with a total of 14.98 pounds. Will and Ricky Ayers of Demopolis placed second with a total weight of 17.18 pounds and won $800. The first place team was Joe Lay and Tony Fondren of Tuscaloosa, with a total weight of 18.45 pounds, who paid a total of $2,000. The tournament actually paid off the top six.
Gettin' Outdoors with BDL podcast host and Black Belt outdoors guru James "Big Daddy" Lawler streamed the weigh-in on his Facebook live stream. "When you see an 18.45 pound bagman and a 6.48 big fish in a 43 boat tournament, with water conditions as they are, it's a testament to the kind of anglers we have in this West Alabama Team Trail," Lawler said.
Big Daddy also noted that many anglers participating in this tournament also fish the Alabama Bass Trail, which is the premier bass tournament course in the state.
McAlpine said he was very pleased with the turnout. "I felt like in the conditions we were lucky to have the number of boats we had," McAlpine said. He said anyone wishing to enter the tournament should head over to the Xtremebass Facebook page. West Alabama Team Trail and Xtremebass information will be there. The next West Alabama Team Trail tournament is March 12 on Lake Demopolis.
McAlpine's other tournament series, Xtremebass, has a higher entry fee but also pays significantly more. First place pays $10,000. Xtremebass will be fishing from Bonners Landing on Lake Jordan in Wetumpka on February 19.