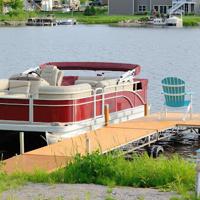 A Quick Guide to the Different Types of Small Boats » Helpful Wiki Featured
As outdoor activities continue to grow in popularity, boat sales are at an all-time high, with the NMMA report for 2021 forecasting sales in excess of 300,000 units.
Are you ready to close the deal on your nautical adventures by buying your own boat? You don't have to splurge on something resembling a mini liner to enjoy your time on the water.
Check out this guide to small boats, which outlines the types of small boats available to recreational users.
car toppers
You can still enjoy boating if you don't have a towing vehicle. These types of small boats are easy to transport on a roof rack above your car. They are also easy to launch, lightweight and ideal for two people.
The following types of small boats fall into this catch-all category:
Canoes and Kayaks
Despite their lack of a motor, these small boats remain boats. It's a fun option for exploring the waterways, fishing and going on romantic outings.
Many avid boaters develop their love for the water by paddling in these boats. Incidentally, rowing is a great form of exercise and a highly competitive sport.
Jon Boats
Jon Boats are among the most popular boats. They are small and simple with an aluminum hull, a square bow, a bench seat and an outboard motor.
They are affordable and easy to launch, load and store. There are so many options you can choose from when purchasing one of these ships.
They are basically a type of utility boat, used for fishing, hauling timber and hunting.
Due to their flat hull, low sides and blunt nose, they sit on top of the water and are not suitable for rough waters. However, they work exceptionally well for fishing in shallow, muddy waters.
Dinghies
Dinghies are the smaller versions of inflatable boats. They are constructed of rubber, with oarlocks and crossbars for rowing and sitting.
These small, maneuverable craft are often taken on sailing expeditions as a nifty way to explore your surroundings or go on a snorkeling or scuba diving adventure.
They are also commonly used to transport people and equipment between a larger boat and the shore.
inflatable boats
Another type of inflatable boat is the rigid hull boat. They are too big to be transported without a trailer.
They consist of a rigid shell with an inflatable tube in PVC or Hypalon material. These sturdy boats can bounce on anything they encounter, including waves.
For this reason, they are highly seaworthy and used for search and rescue operations as well as recreation.
Skiffs
The term "skiff" refers to any type of small, open boat. It is a low maintenance option, due to the absence of moving parts and additional systems.
At the end of the day, all you have to do is disassemble the outboard motor and rinse it out with a garden hose.
You can tow a skiff with an average tow truck, they are also easy to steer and affordable. Due to the small size of a skiff, you can park it in your driveway or garage when not in use.
The small size limits the number of people you can take with you, and you'll have to stick to calm waters for safety in such a small vessel.
Pontoon boats
Pontoon boats come in large and small sizes, usually between 15 and 30 feet long. They have a flat shape with pontoons (tubes) to keep them afloat on the water.
It is a great option for fishing and cruising and allows more passengers than any previous boat type.
fishing boats
Like Jon boats, aluminum fishing boats are lightweight, fuel efficient, and inexpensive, but you can find fishing boats in all shapes and sizes. Most include a durable fiberglass hull.
The main characteristics of these boats are their solidity and stability which allows you to fish on a variety of waterways. Some come with live wells, outboard motors, trolling motor system, front bow and rod lockers.
You can buy fishing boats designed for river or sea fishing or bass fishing.
Jet boats
Most jet boats are large, powerful machines, but you can also get them in smaller varieties. They are powered by inboard jet engines that blow high pressure through a nozzle to create thrust.
Jet boats provide a thrilling ride.
watercraft
Jet skis fall into this category and are some of the most exciting small boats to ride and enjoy. You can seat one or two people, depending on whether you choose a standing or seated model.
Personal watercraft are fantastic for buzzing at high speeds, and you can even use them for waterskiing and wakeboarding. Avid enthusiasts would do better to consider a larger craft like a ski boat or wakeboard boat for water sports.
Deciding Between Small Boat Types
Naturally, the first thing you'll think about when buying a small boat is what you want to use it for. Although this limits your choices, you will still have to choose between one or more types. These small boat tips can help you make the right choice:
Don't lose sight of your budget
Set aside a fixed amount for the purchase of your small boat and never deviate from it. It's easy to feel tempted when looking at the latest shiny boat designs.
A boat is a luxury item, so it is not advisable to go into unnecessary debt when buying one.
Keep your requirements and experience in mind
It's tempting to buy a powerful boat that looks good on the water and produces a satisfying roar when you start it. However, it is essential to take your experience into account when choosing a boat.
Buying a boat that is too powerful for your experience is dangerous and unnecessary.
Remember the cost of owning a boat
If you decide to apply for financing to pay for your boat, you need to establish your monthly budget by taking into account a few other boat expenses.
These include:
You will also need to spend money on routine maintenance, repairs, and safety equipment.
Find your perfect boat
The internet is a great tool for researching the best types of small boats, but it's always best to explore your options in person. This is the best way to make an informed decision.
Visit boat shows and dealerships where you can compare different models side by side, and get advice on each boat from an experienced salesperson.
Want more lifestyle tips and advice? Browse our blog for snippets on a wide variety of topics.