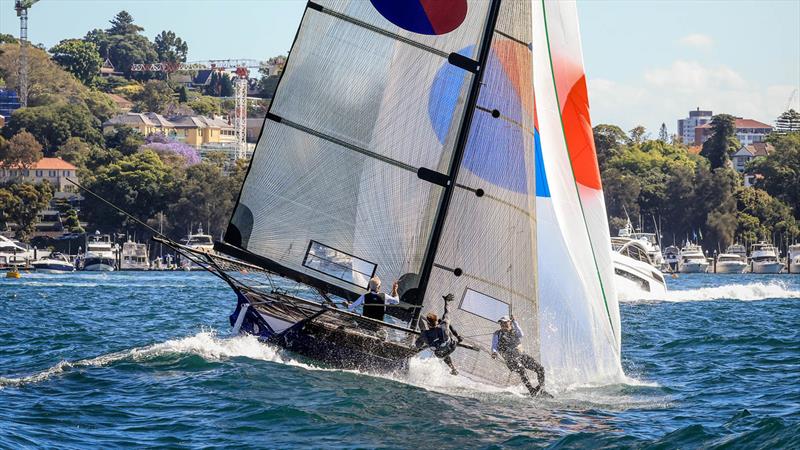 18ft Skiffs: Rogue Powerboat Wake Eliminates Yandoo
18ft Skiffs: Rogue Powerboat Wake Eliminates Yandoo – Spring Championships Race 3
by Richard Gladwell Nov 03 6:02 AM PDT
November 3, 2021
Ride the periscope as Yandoo rides the Sydney Harbor roll created by a rushing motorboat so they're not late for their next play date. © Michael Chittenden / SailMedia
John Winning, the patron saint of the Australian 18ft League, and the Yandoo crew looked set for a well-deserved victory in the third race of the 18ft Single Scull Spring Championship, which sailed through Sydney Harbor Sunday afternoon.
On a beautiful Sydney day, with the city released from lockdown, there was a lot of traffic on the harbor – and most were driving as if they owned it.
Race leader Yandoo with his crew John Winning, Jasper Warren and Mike Kennedy looked like they got a few clicks faster than the rest of the fleet in the 8-10kt sea breeze, and capitalized on that advantage leading Finport (Keagan York, Bryce Edwards, Phil Marshall) around the final mark of just under two minutes – and what should have been some race victory.
After rounding the final mark with more pressure, Yandoo left it until the first jibe to place a spinnaker with what should have been an easy last leg – until a motorboat, trailing half of the harbor behind him, cuts the bow of the bow of the skiff.
Yandoo went halfway through the air on the first wave, cut the wake himself, then tried to ride the other side. What followed was spectacular.
This clip from the live video coverage covers the final leg, showing the incident with Yandoo, who has recovered well, and the very tight tactical finish. expert commentators Andrew Buckland, James Bury and Peter Shipway call Yandoo the arrival and incident.
For the full race and great camera work from Sail Media click here
New live coverage production and a new camera setup are used this season by the 18ft skiffs and have taken coverage to a new level – all against the spectacular backdrop of Sydney Harbor.
You can watch the latest races – streamed live at www.18footers.com and click on the '18 Footers TV 'link, or on Youtube, click here