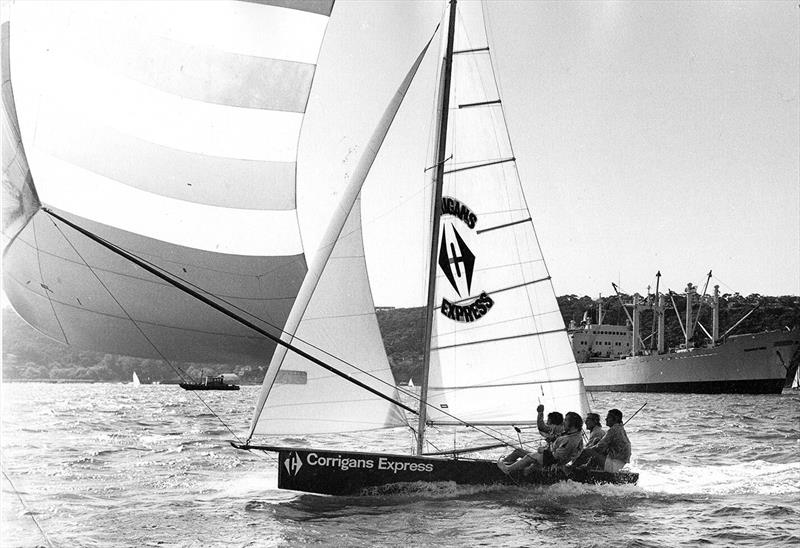 18ft Skiffs: Patrick Corrigan, AM
18ft Skiffs: Patrick Corrigan, AM – 30 Years of Sponsorship of the 18ft Skiffs
by Frank Quealey Jun 13, 2020 9:57 PM PDT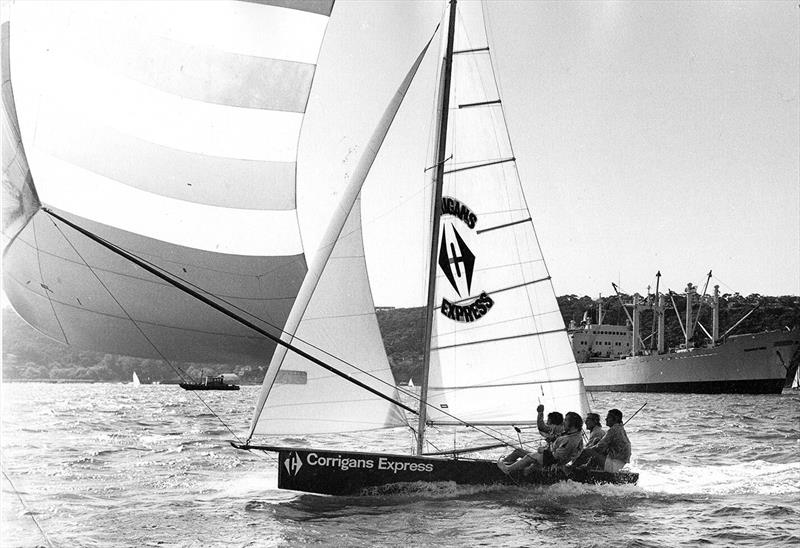 A four-handed Corrigans Express from the 1970s © Archive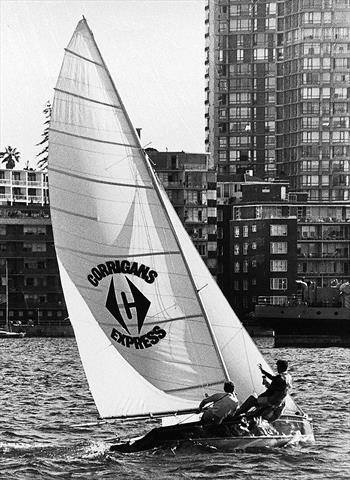 The first Corrigans Express in 1969 © Archive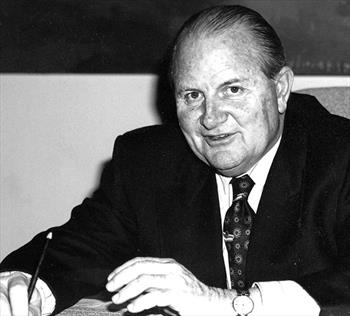 Mr. Patrick Corrigan, AM © Archive
Mr. Patrick Corrigan, AM is an Australian businessman, specialized primarily in the freight industry, art collector, jazz enthusiast and philanthropist, who received the Medal of Member of the Order of Australia in the Queen's Birthday Honors List 2000.
Fortunately, Patrick's love for our sport has also benefited Sydney 18ft Skiff Racing for many years.
His first appearance was in 1969 when he sponsored Vic Robinson, in Corrigans Express, at the 1969 JJ Giltinan World Championship. It was a time when the number and development of the fleet to maintain high standards in the 18 years depended heavily on corporate and individual sponsorship dollars.
It was barely four years since TravelLodge Hotels became the first major sponsorship in the category.
Patrick's support continued with another single scull for Vic Robinson in the early 1970s. He then added Express Livestock (for a young budding team) to a two boat sponsorship program.
His wonderful support of 18ft Skiff Racing continued throughout the 1970s with a series of Mitchell Cotts Freight single sculls for a variety of skippers, before the next step in its sponsorship history came in the 1980s when he sponsored John (Woody) Winning in the Mitchell Cotts skiff.
As costs rose dramatically in the early 1980s, Patrick was obviously in a hurry to continue his sponsorship at a high level, but showed his business skills when he came up with a multi-sponsor combination of individual companies in his quest to win. a JJ Giltinan. World Championship.
His boat raced under the Southern Cross name with the logos of all individual sponsors appearing on the mainsails and spinnakers. Robert Brown was the skipper and the boat competed in the 1988 Giltinan Regatta in Sydney Harbor.
A complicated rule had been introduced for the 1987-1988 season, which concerned what was declared a new or previously used sail. The intention was to try and limit the escalation of costs in sport as fleets dwindled.
Unfortunately, the rules created confusion and a controversial protest was filed, which led to the decision to declare Southern Cross and Chesty Bond (Trevor Barnabas) joint champions.
Patrick was never fully satisfied with the "shared" victory and continued his sponsorship support for young sailors in the early 90s in an attempt to win the championship.
David Witt and Anthony Young almost gave Patrick the outright victory he so longed for, but it wasn't until Stephen Quigley was captain of the AEI-Pace Express in 1996 before Patrick finally achieved his goal of winning the 18ft JJ Giltinan single scull world championship.
His goal achieved, was it time for Patrick to pull the plug?
No way, he was a true and staunch supporter of 18ft Skiff Racing and continued to sponsor people like American champion Howie Hamlin, Emery Worldwide, until the early 2000s.
So why has Patrick continued to sponsor 18ft Skiffs for over 30 years? His simple response, "It's a three letter word – FUN."
"I sponsor a number of different things in sports as well as the arts. The reason I do this is simple, I love to have fun."
"I always had fun sponsoring the 18 year olds and I enjoyed watching the single sculls. It was also a good way to arouse the interest of company staff outside of daily work.
Sponsorship has always been a great way for businesses and small businesses to show their colors in Sydney Harbor, entertain their associates and boost staff morale, as Patrick has done for over 30 years.