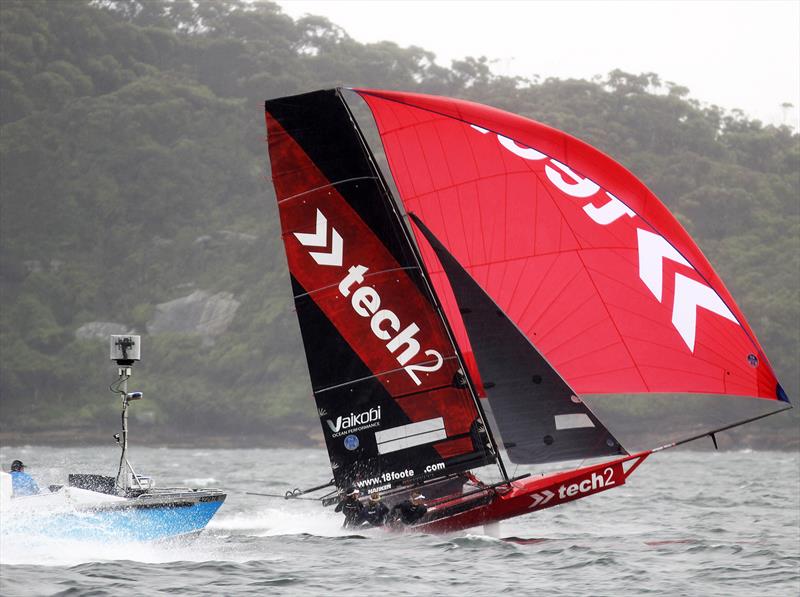 18-foot skiffs: tech2 sets the tone
18-foot skiffs: tech2 sets the tone
by Frank Quealey Nov 4, 2020 10:43 PM PST
November 8, 2020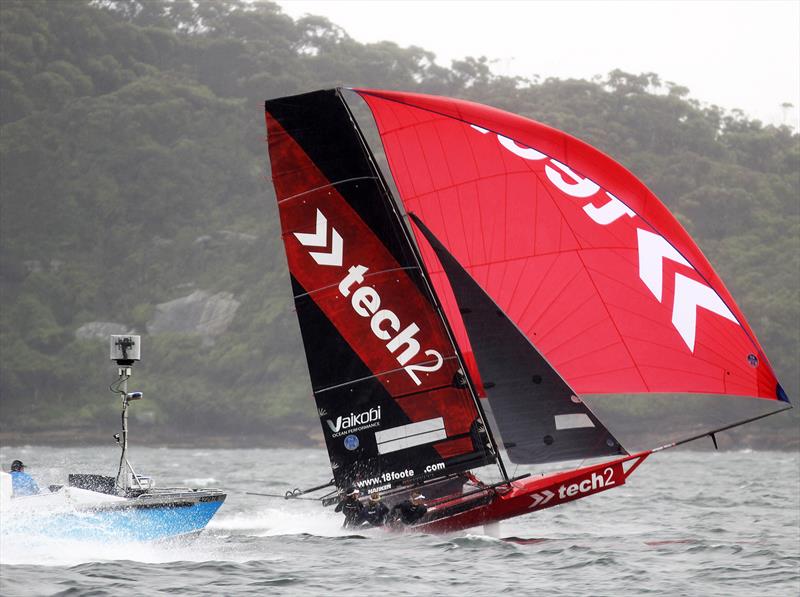 The AeroMedia Live Broadcast video team follows tech2 on the spinnaker run last Sunday © Frank Quealey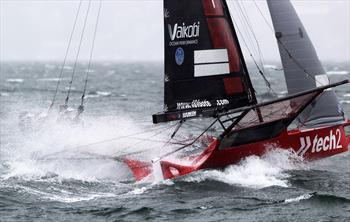 The tech2 team pushes the skiff into the wind during Race 4 of the 18ft Spring Championship © Frank Quealey
With races 4 and 5 of the Australian 18 Footers League Spring Championship set to take place in Sydney Harbor next Sunday, Australia's 18-foot team Skiff tech2 could wrap up the series if they can maintain the exceptional form shown. in the four races contested so far. .
Skipper Jack Macartney, archer Lewis Brake and Charlie Wyatt on the sheet have always been impressive with a win, two second places and a fourth place, but last Sunday's victory was unforgettable.
As 25-30 knot southwesterly winds swept over Sydney Harbor, the tech2 team put on a brilliant display of power sailing to cross the finish line 12m25s ahead of rival Yandoo team la closest comprised of John Winning, Mike Kennedy and Jasper Warren.
The team completed the course without capsizing, while all the other competing teams were unable to keep their skiffs afloat at all times in appalling conditions.
Incredibly, the tech2 crew made the conditions a lot less difficult than they were and never seemed likely to capsize at any point in the race.
Another incredible performance last Sunday was provided by the "veteran" team Yandoo.
2000 champion JJ Giltinan and 18ft single scull legend John 'Woody' Winning, 68, continues to amaze his fans with his remarkable ability to compete at the highest level and in all conditions every Sunday.
Not satisfied with this feat, 'Woody' is also captain of a Historial 18 every Saturday at the Sydney Flying Squadron. When asked how he does it, 'Woody' simply said, "I love it, and I have a very patient and understanding wife."
Ahead of Sunday's double, tech2 leads the competition with a total of nine points. Tech2's closest challenger is Yandoo with 18 points, followed by Winning Group (John Winning Jr.) on 20, Smeg (Michael Coxon) on 22 and The Oak Double Bay-4 Pines (Aron Everett) on 32.
Finport Finance (Keagan York) and Shaw & Partners Financial Services (Jim Colley) are tied for sixth with 36 points.
The first weather forecast for next Sunday is southeasterly winds at 14 knots, which should provide the fleet of 18 boats with excellent and close racing conditions, and give some of the exciting new teams a better opportunity to show their skills. skills.
Spectators can follow the races aboard the club's spectator ferry, but due to COVID-19 policy, numbers are limited.
Online booking on the club's website www.18footers.com is essential. See www.18footers.com.au/18-footers-sailing/spectator-ferry
For those who can't make it on the water, AeroMedia's live broadcast team will be in Sydney Harbor to capture all the action. The live stream is available at www.18footers.com by clicking on the '18 Footers TV 'link.