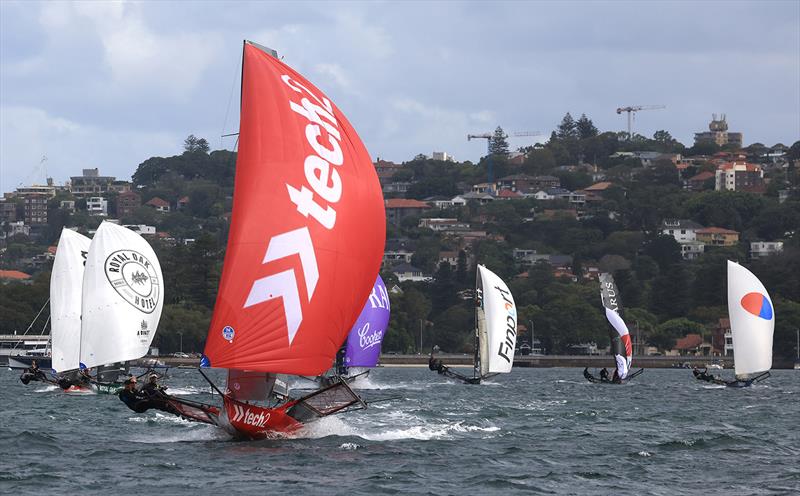 18-foot single sculls: JJ Giltinan Trophy
18ft Skiffs: JJ Giltinan Trophy – Race schedule and commentary with links
by Richard Gladwell Mar 4 4:11 PM PST
March 5, 2022
Day 3 of the 100th Australian Skiff 18ft Championship © Michael Chittenden
Interior of SailMedia's special on the water camera and commentary catamaran used to cover sailing events in Sydney Harbor including the JJ Giltinan Trophy © Michael Chittenden


Live racing coverage in the JJ Giltinan starts at 2.20pm (Sydney time) every race day, and commentary begins at 2.30pm with SailMedia's Andrew Buckland, Peter Shipway and Jim Bury, who are on the water and following the action.
As an indication, yesterday's Invitation Race confirmed that there is little between the top three teams, Australian champion Andoo, defending champion Smeg and NSW champion Tech2.
The Andoo team of Seve Jarvin, Matt Stenta and Sam Newton officially won the race by 1m57s from The Oak Double Bay-4 Pines (Aron Everett, John Cooley and Charlie Gundy), with Lazarus Capital Partners (Marcus Ashley-Jones, Jeronimo Harrison and Cam Gundy) another 1m47s back in third place.
Shaw and Partners Financial Services (Steve Thomas) finished in fourth place ahead of Yandoo (John Winning) and Balmain Slake (Henry Larkings).
There are no New Zealand boats competing in the event, due to COVID restrictions – which were only partially lifted last week, allowing New Zealand participants to return to their country of residence without having to endure a $3,100 each in managed isolation and quarantine – assuming they could get a spot in the MIQ lottery of 30,000 Kiwis trying to get one of the 3,000 spots on offer.
The race schedule is as follows – all race coverage starts at the same time at 2.20pm each race day, unless otherwise stated.
Race 1 Saturday
Race 2 Sunday
Spring Break Monday
Race 3 and 4 Tuesday
Race 5 and 6 Wednesday
Race 7 Thursday
Friday off
Race 8 Saturday
Race 9 Sunday